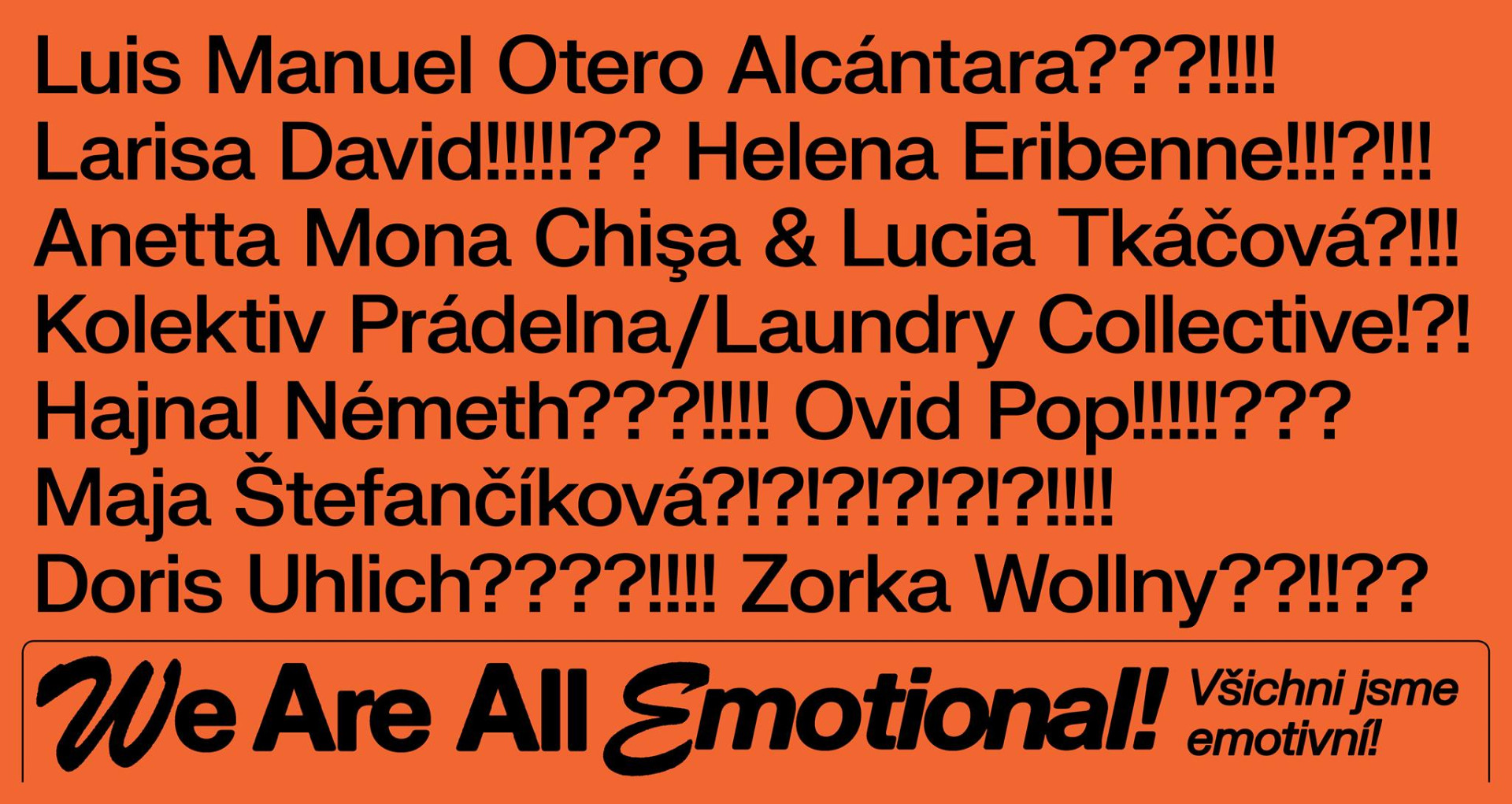 We Are All Emotional
06. 05. 2022
- 07. 05. 2022
tranzit.org
performance festival
The festival of performance art will take place on May 6–7, 2022 in Prague, Czech Republic. The program comprises new works by Luis Manuel Otero Alcántara, Larisa David, Helena Eribenne, Anetta Mona Chisa & Lucia Tkáčová, Laundry Collective, Hajnal Németh, Ovid Pop, Maja Štefančíková, Doris Uhlich, and Zorka Wollny. The event is being organized by tranzit.cz / Matter of Art in collaboration with Divadlo X10 and co-curated by members of the tranzit.org network (Judit Angel, Dóra Hegyi, Livia Pancu, Georg Schöllhammer, Tereza Stejskalová & Attila Tordai-S.). The joint event heralds the twentieth anniversary of tranzit.org, which will be celebrated in 2022. Admission to the festival is free with a reservation. Capacity is limited.
Photos
Day 1
Day 2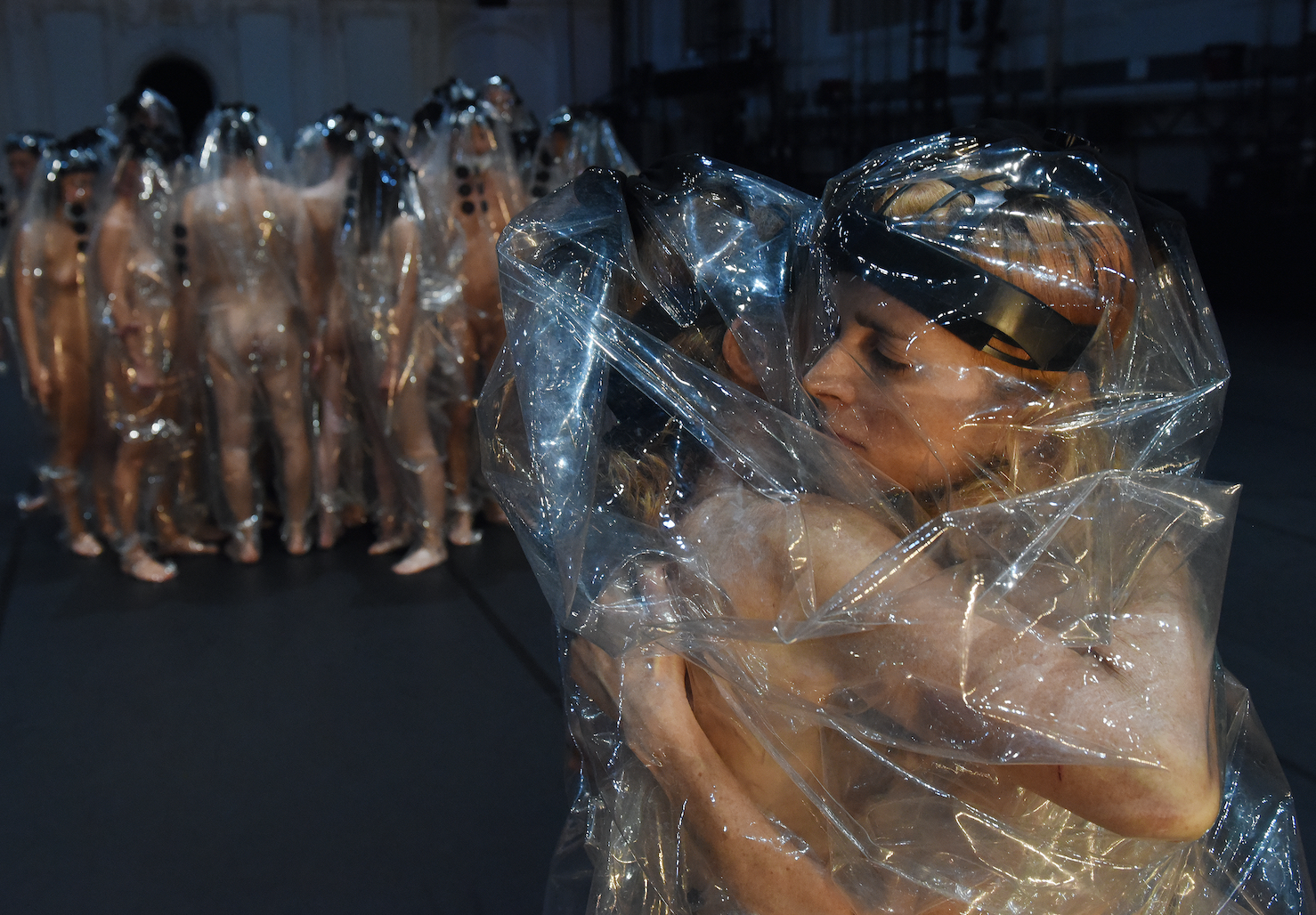 Program
Can we feel hopeful again?
Emotion is an intensity that takes place between people, concepts, and objects. Both cognitive and sensory, it moves around and sticks. As it circulates in the world, it is difficult to define. We live through events that overwhelm us emotionally. In the context of an overpowering crisis like war or climate change, it is difficult to maintain any distance. Thus, today's political culture often seems to be driven by overpowering fears, anxieties, and anger. Are such emotions a good compass? Emotions—be they highs or lows—are coded into the social media platforms on which we spend so much of our lives and which thrive on our emotional engagement. The boundaries between private and public move too fast for us to track. We react emotionally to what is happening around us, but sometimes it seems as if the ways in which we react make us incapable of dealing with the problems at hand. We shift from politics to personal and back. Have the political passions associated with twentieth-century revolutions and social strife been exhausted? Which emotions can unite us, and which emotions divide us? Which emotions should we trust to be our guides? Can we feel hopeful again? This program of activities invites artists to question the established ways of thinking about emotions and consider what gestures could create conditions for solidarity and shared empathy. Emotions are messy, contradictory, and complicated, as is art that talks about and through emotions. Yet it can guide us to understand experiences we have never had and traverse various kinds of social divides.
tranzit.org is a unique network of civic associations working independently in the field of contemporary art in Austria, the Czech Republic, Hungary, Romania, and Slovakia as well as across the borders of wider Europe. Its main goal is to support and articulate emancipatory practices and establish connections between culture and society by moving across geographies, generations, and political realms. Since its founding in 2002, tranzit has been a critical (and self-critical) platform that challenges dominant narratives of post-war European (art) histories. It has promoted contemporary art practices, theory, and social discourses with an aim to contribute to present-day mobilizations of solidarity and community building in a Europe of rising nationalism, cultural essentialism, growing economic egoism, and social as well as gender inequality. Each tranzit works under its own conditions in a variety of local cultural and social contexts, using different formats and methods to contextualize, generate or host theoretical, artistic, and activist debates around today's exigencies. Tranzit's activities include exhibitions, thematic projects, seminars, publications based on long-term research, and participatory interventions into the public discourse. ERSTE Foundation is the main partner of tranzit.org.
Book
A new eponymous book will be published on the occasion of the festival. The volume comprises interviews with the participating artists conducted by the festival curators during the first wave of the COVID-19 pandemic. The festival has been rescheduled twice due to the pandemic. The interviews reflect the roles that emotions play in the practices of the invited artists as well as how these artists, whose performative practices often necessitate the physical proximity of human bodies, were themselves affected by the pandemic. The book includes Czech and English versions of the interviews, and it will be available in a limited run exclusively to festivalgoers on site and free of charge.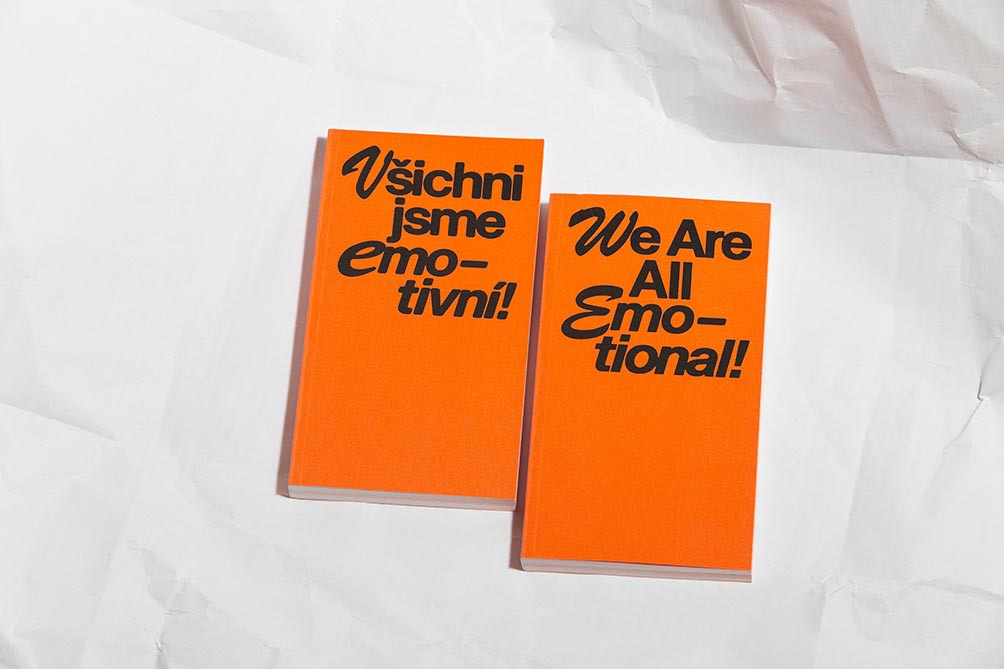 Child zone
The festival will offer a supervised child zone. During the evening program, you will have the opportunity to entrust your children to a supervised child zone located in the Divadlo X10 building. The zone will be open on May 6–7 from 6.30 pm to 10.00 pm and it is organized in cooperation with the Tábor solidarity Collective
Venue
Divadlo X10 was founded in 2013 by the current Artistic Director Lenka Havlíková, director in residence Ewa Zembok and actress Anna Císařovská. From its founding to June 2018 it operated in the building of the Strašnice Theatre in the Solidarity housing development in Prague. From September 2017 the theatre has operated in the spaces of the Art Industry Building in downtown Prague (Dům uměleckého průmyslu), where it fully relocated after its voluntary departure from the Strašnice Theatre in June 2018.
Links
Media partners
Press
For press passes, kindly contact us via email at press@matterof.art.