Contextualisation of the Void
Judit Angel in conversation with Maja Štefančíková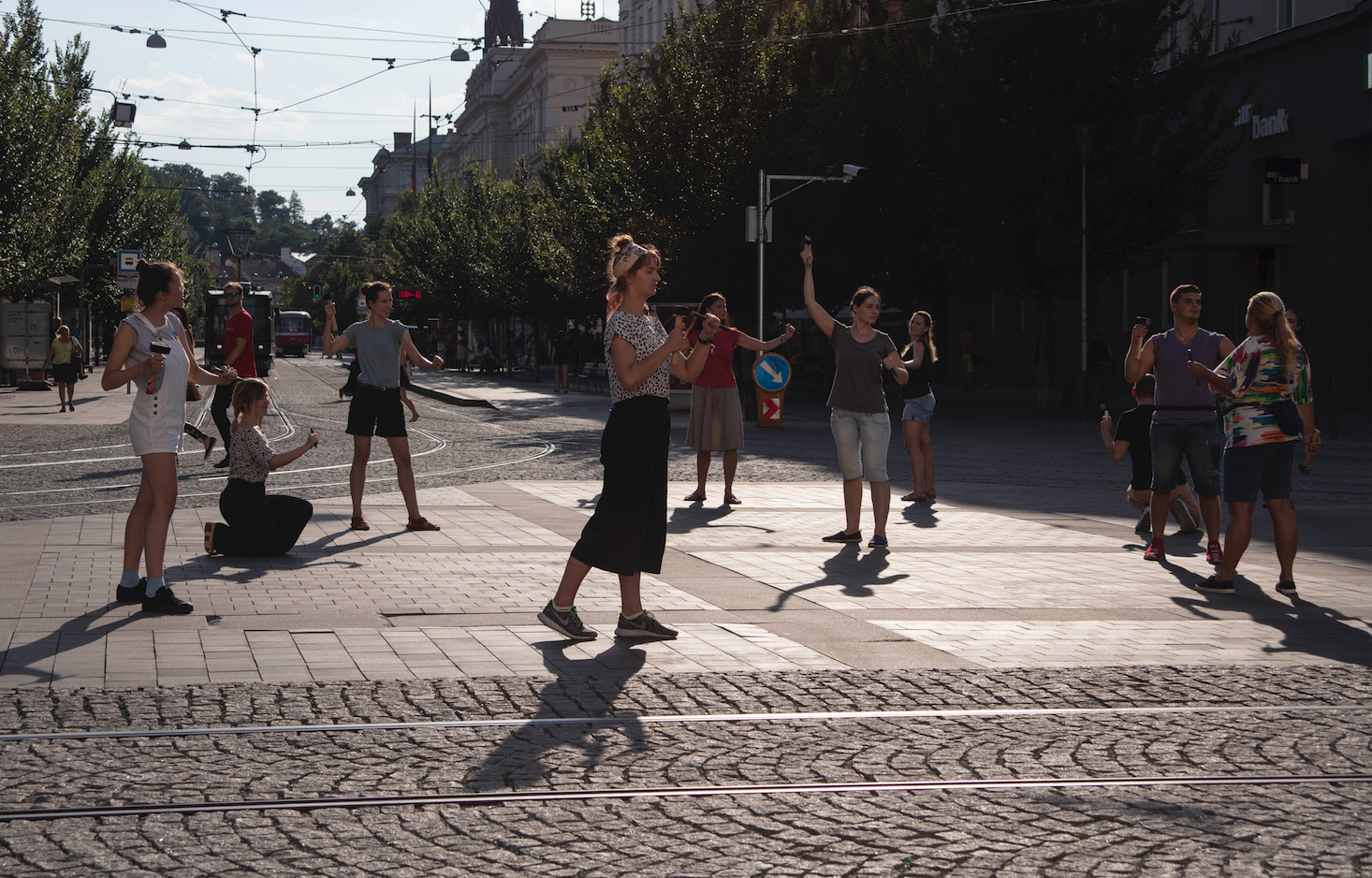 Maja Štefančíková, Ephemeral Sculpture, 2019, from the exhibition Brno Art Open – Sculptures in the Streets: I am a dependent object, The Brno House of Arts, Brno, Czech Republic, courtesy of the author, photo by Eva Rybářová
Judit Angel: Most of your works from the last 5-6 years were choreographed and included a collective dimension. When specifying the genre for your works, you used a variety of combinations of terms such as multisensory dance performance, performative action, public space intervention, staged situation, performative environment, olfactory sculpture-performance, or sound sculpture which themselves indicate a focus on sensorial perception and a heightened attention to the space or site of the performance. Let's start with choreography – what is its role in your working process? Why do you like to work collectively?
Maja Štefančíková: Choreography is one of the plans in the process of creating a movement piece. The viewer perceives its beginning, story, end, and multiple repetitions. Motion and sound, as fundamental components of the choreography, play out in a concrete time and space and then cease to exist. At these coordinates, my performative works are often dedicated to contextualizing the void – through motion and words, I create something intangible. When the event is over, there's a kind of decompression, and the audience can become aware of their fullness and the existence of the situation they just witnessed. When we watch something all the way to the end, we gain the understanding that it is the past. This "accelerated production process" enables me to create dematerialized works. In doing so, I am reacting to the excessive object creation that developed in Western society in the 20th century. I base this on the fact that this production is overloading humanity – that we currently produce more than we need, which has a negative impact on climate conditions. Through this thematic lens, a performative action, as a creation in a concrete time and space, allows me to explore social relationships and themes without using static materials. This led me to realize that I can move through different genres such as dance, sculpture, or video and examine their boundaries while at the same time discovering something about interpersonal relationships in multi-generational groups or human interaction with the viewers. Performative situations do this while also inspiring and enabling me to create hybrid forms. I enjoy working in a group, even though my approach is often based on my telling the performers what to do and how to do it. I direct them. I have movement and voice compositions mapped out beforehand, which don't leave a lot of room for improvisation. Improvisation arises once the audience enters the picture. In my works, the viewers are always confronted with themselves, with their own presence in the situation, with something that matters to them. They perceive themselves as important figures. They influence and mold the situation.
Judit: You often work with women, and in many cases, they are over 50 or even 65 years old, as in the case of the students from the University of the Third Age. How does the performers' age impact the topics of your performative works? What is your experience working with older people?
Maja: Performative actions are about the potential of the human body. The body is not a static and fixed entity – it is constantly transforming. It is the medium and the core of my work. The body working, dreaming, dancing, and resting. You can be wearing anything and at the same time transform into different levels. The body will always express who you are and what you feel. I appreciate diverse human bodies in motion, and when I compose a performative situation, I always take this diversity into account. I find "living material" in different places, for example between dancers and actors or even among my students, and that grants me with a diverse typology of characters. In 2015, I began to work with seniors as well. In my project The Call of the Wild, the oldest participant was 80. Thanks to this collaboration, I was offered a position at the University of the Third Age teaching a course called Art in Everyday Life. The lifelong learners there came from many different fields, and for some of them, this was their first encounter with contemporary art. They were open to experimentation, and a few times we tried out performative actions in the classroom or in public spaces. I don't think they really considered it art, even though on a number of occasions felt quite the opposite. They often asked what made it art. I also noticed that during our movement studies, they sometimes forgot about their aches and pains and completely threw themselves into their performances. Based on these experiences, I later held a workshop with them as a part of the exhibition Hidden Curriculum. It was meant to culminate in a performative situation, a manifestation of movement, but I decided not to do a public presentation as originally intended because the participants weren't keen on it. They didn't want people to watch because they were afraid they couldn't manage the physical aspects, and so in the end we simply photographed the individual movement studies. When working with non-professionals, we have a concept, but since we're interacting with people who have experience in different fields, it's not always necessary to fulfil that concept. It's important that they understand what we're creating together, that they want to do it, and also that they receive payment for it. An example of the opposite is the project The Cloud of Generosity, the concept of which also related to older individuals, particularly women nearing the end of their middle age. The project was a tribute to women as well as a critique of the lack of them in the public space and a proclamation about the essence of the character of femininity that persists today. In particular, it was based on the concept of creating olfactory fountains using Chanel No. 5. Nóra Ružičková and I hired five female extras, all over the age of 50, to stand in the Petržalka neighborhood of Bratislava and spray bottles of the perfume. These actresses approached the work professionally and didn't worry about how they looked or what people might think of them. After we explained the movement composition to them, they followed the script.

Judit: When working with the public space, it is quite common to refer to history, collective and individual memory, monuments, and architecture, but your performances also engage the visual, auditory, and olfactory senses, which gives rise to greater complexity in the works. For example, the piece you set up for an open-air cinema in Olomouc used historical film references and the act of viewing as its theme, your ephemeral sculpture which unfolded on the streets of Brno contained the sounds of its own creation, and the sculpture you installed in Bratislava's Petržalka neighborhood dissolved in its own perfume. What was your inspiration in such cases? What role do the senses play in your work?

Maja: Work in the public space comprises everything you describe, but other elements also play an important role, for example wind, smells, sun, various industrial sounds, and even pedestrians on the street. All of these influences determine my thinking when I'm composing a performative work. I'm always interested in the relationships that arise in a given space, and I see, hear, and feel them. For example, I realized the project Ephemeral Sculpture in the center of Brno, and I don't think it would have worked nearly as well anywhere other than in a square in the center of a city. The performative action consisted of a group of performers making their way from one square to another while using tools for stone sculpting to create sounds, thus carving an acoustic monument. I swapped solid sculptural materials for a fluid acoustic substance. The curatorial collective Café Utópia invited me into the project. During our first meeting, we checked out a few locations, and I found the very process of moving between them quite interesting.  I perceived it as flowing acoustic matter moving from one place to the next, from square to square. The work was influenced by a few concrete factors: the history of the public space in the center of Brno – all the statues and monuments that had disappeared, had been moved, or were never built – as well as the knowledge that whoever holds power also holds it over the public space, and so they reshape the space. The construction of the monument itself was created by the performers' movement through the city while creating an acoustic composition with the stone sculpting tools. I tested if the rhythm of the composition would spread through the city and whether or not people would be able to register the process. Another inspiration was the tourists who often stop in squares or near sculptures to photograph themselves, their bodies stiffening, petrifying, and giving the impression of de facto sculptures. It's the transition of the functioning body into a stylized, modeled body in the form of a sculpture. The final component was the audience, which determined the length of the performative action itself. When a viewer interacted with the performative situation, they could change its length. The scene could last anywhere from a mere six minutes (the length of the musical composition) to as long as two hours.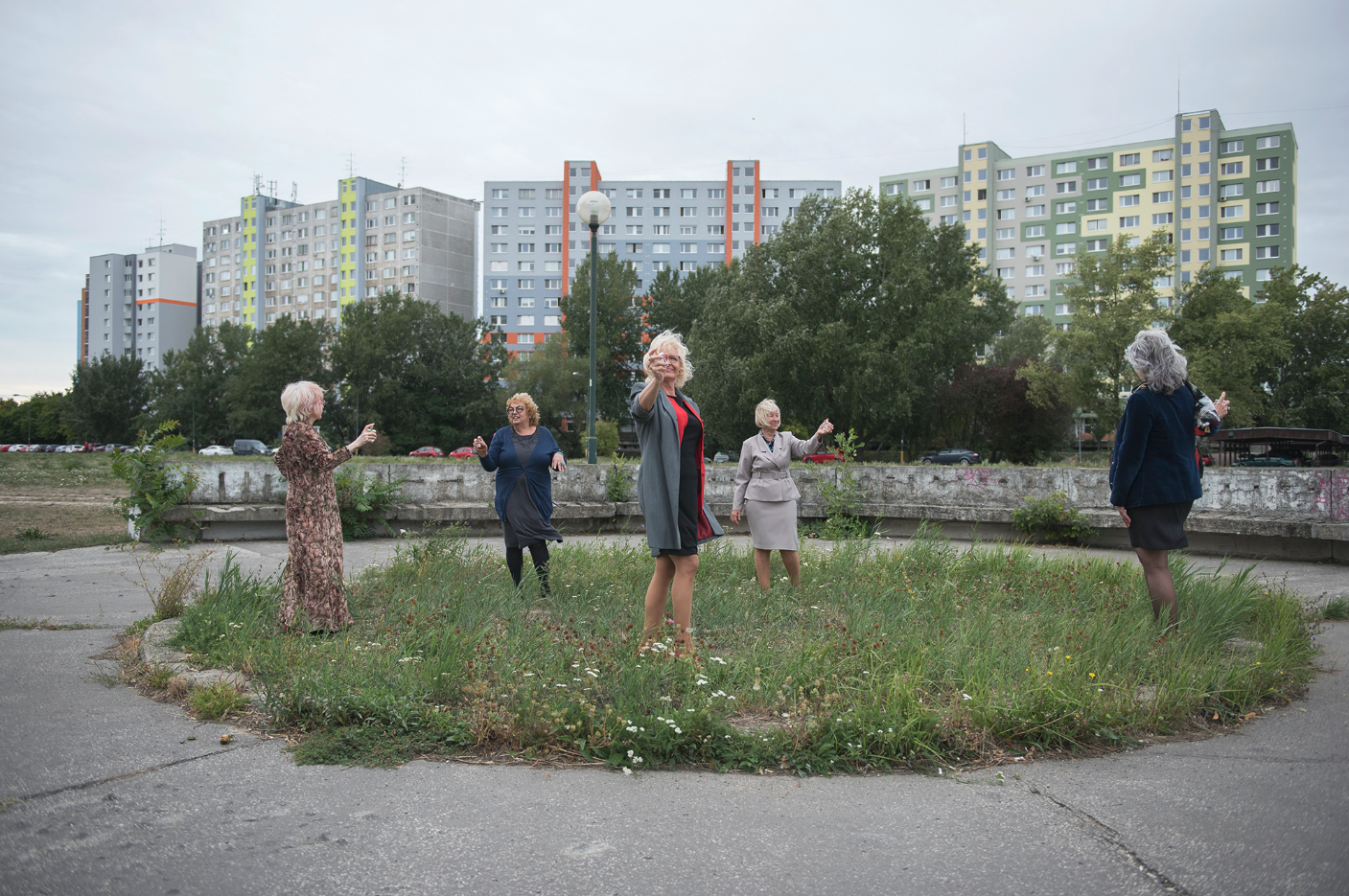 Nóra Ružičková and Maja Štefančíková, The Cloud of Generosity, 2017, Petržalka, Bratislava, Slovakia, courtesy of the authors, photo by Adam Šakový
Judit: While exchanging ideas about your new work for the Prague Festival of Performance Art, which is dedicated to the topic of emotions, you wrote to me that "our bodies are cells in which the mental affects the physical and vice versa," and that "whenever our bodies move, there is a release of emotion." How does your work relate to emotions in general?

Maja: Encountering art evokes emotions. For me, it's not so much about this encounter, even though it happens on the primary level, but rather about how we are capable of becoming art ourselves, creating an artistic partnership, and setting up a situation so that it's open to you and you're willing to react to it, enter into it, and experience it. This is a question of the will, attitude, and condition of the viewer, who can become both subject and object of the work. In some performative environments, I count on the audience as one of the compositional elements, and I recognize their emotional engagement. Sometimes, thanks to the audience, a simple rehearsal can turn into a performative situation itself, which is what happened with Ephemeral Sculpture Group in the public space. Some viewers reacted positively to what they saw and became a part of the performative moment. Other viewers gave off embarrassed signals, which the performing group picked up on immediately. And once during the same moment, in one of the squares the viewers heckled us and whistled. Right then I could see in the live feed how the performers completely closed up and stopped communicating with them. When we moved to a new location in a few minutes, and a different audience arrived, the situation changed. Working with performers provides you with immediate reactions and emotions, which really come flowing out in group rehearsals. The mood of the performers at any given point is to a large extent dependent on my own mood, and some feelings immediately resonate between us during rehearsals. However, sometimes feelings just don't work. I've noticed that it can arouse anger in me when I see some potential in something that I can't yet grasp. This feeling in particular drives me onward. Of course, it's not purely about anger. Curiosity also plays a role – our drive to investigate the unknown. And after that, we might even get the feelings we desire.
 
Judit: It was a few months ago that you made the first concept draft of your new piece. Have you been able to continue to work on it? How has the prolonged lockdown affected you and your activities? What has given you the strength to carry on?

Maja: When writing the concept for the festival I tried to best describe and define for myself what the performative situation could look like. On one hand, I want to introduce dance as communication and base it on emotions, on a desire to create what we want, without having to know and be capable of complex dance techniques. On the other hand, it aims to test the viewers' attention in the altered conditions of the space where the presentation takes place. I was already doing movement and voice rehearsals when I began to suspect the festival would be postponed. This is why I wanted to pin down the process of creation as precisely as possible beforehand. I tried not to break it off, or I at least tried to finish one part of it. After that I had to start working on my project for Kunstverein Eisenstadt, on which I collaborated with the Austrian group Club Fortuna. The project was demanding because we didn't know each other at all, but we were supposed to create a work together. We did everything through Zoom, and the only thing that connected us was the continuing situation with the pandemic. We really didn't want to create art. It seemed pointless. And that's why we decided to transform the gallery into a waiting room – it was the best reflection of the current situation. And so in January of this year I was regularly travelling to Eisenstadt. During that period, I was working more or less normally, which is why the second wave and lockdown hit me differently. Though I have to say these waves have one thing in common, and that is how my body and habits change during lockdown. Like how I don't want to go out when it's raining or snowing. Under normal circumstances, the weather wouldn't factor into my desire to go out. My body and muscles also stiffen, and I lose my flexibility and ability to move. I always somehow forget about this at the beginning of lockdown, and then I have to prescribe myself some kundalini yoga and jogging.
Maja Štefančíková, Spatial Sketches, 2018, Plusmínusnula Gallery, Žilina, Slovakia, courtesy of the author, photo by Gosia Cwiech
Judit: The pandemic has affected all of us. What have you personally learned from it? What would you like to do differently in the future? What are the first three things you'll wish for when we get back to a more or less normal situation?

Maja: There's no substitute for personal, human contact. During the first relaxing of restrictions, when I met with people I hadn't seen in a long time, my body received a jolt of adrenaline and endorphins. I was surprised by how much happiness flooded over me in such moments. I think the first things that will start to happen again in the future will be completely ordinary, and I guess there are more than three, but I hope that various small, meaningless activities return to my life – breathing, taking in smells, touching, hugging, noticing one another, going to a movie or for a glass of wine, getting up in the morning and going to work, or going to a vernissage or club in the evening.
The text is a part of an ongoing series which aims to introduce the ten artists who will participate in the upcoming festival of performance art We Are All Emotional. The event will take place in May 2022 in Prague.