Mandy El-Sayegh
Four Species, 2022, site-specific installation with original score, with Alice Walter and Lily Oakes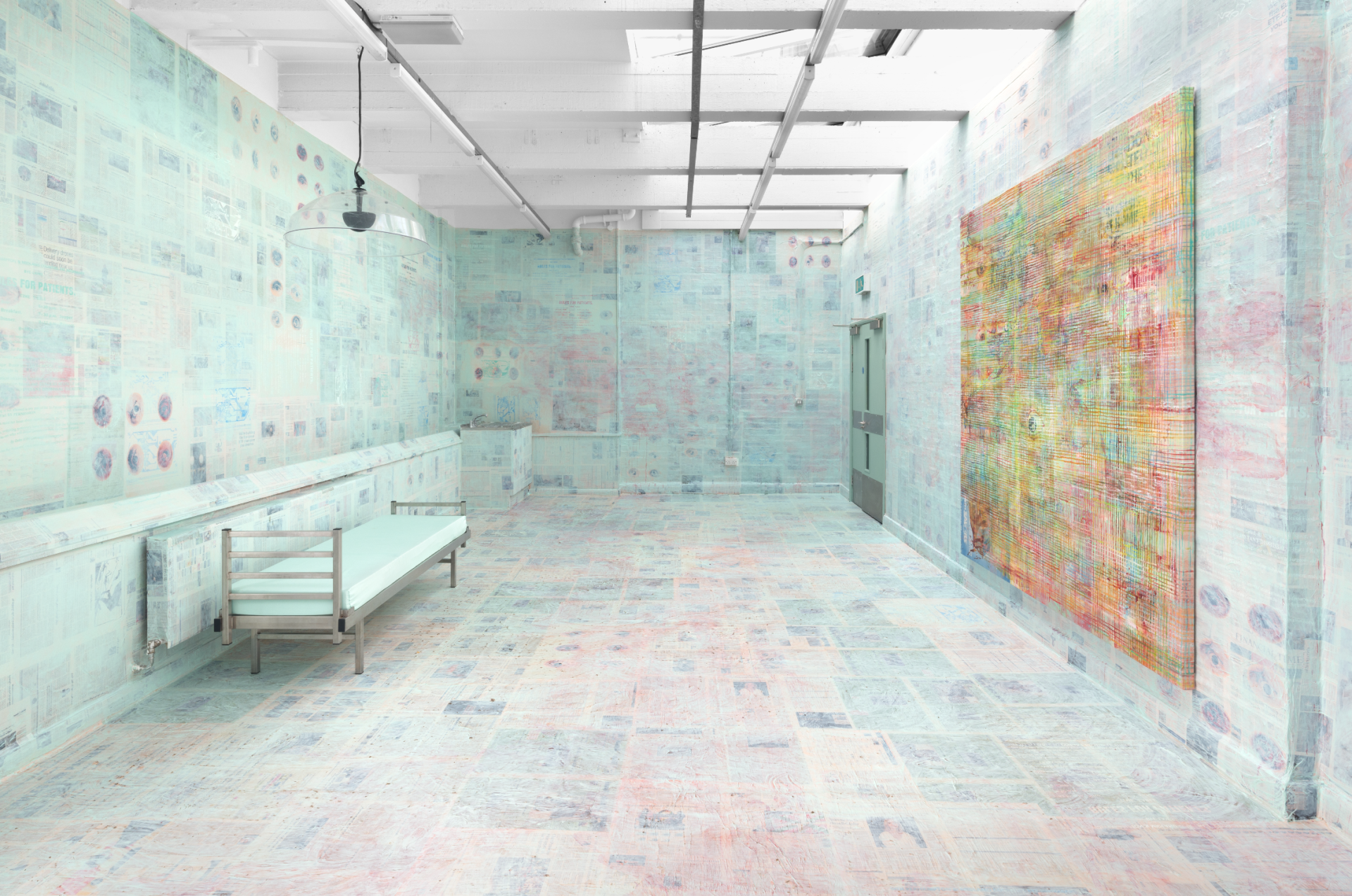 Mandy El-Sayegh's painterly language draws on an unlawful diplomacy, mining the euphoric elements of excess and debris to create psychosocial collages. The artist's process unfurls how systems of conversion and preservation work amidst the innate poverty in conditions and materials, which for El-Sayegh, are surfaces for building layers. Building here resembles the diligence of marking: a passage that deepens a wound, a map that blossoms into grids of pain. The immersive installation features an original score by composer Lily Oakes, foregrounding intimate dialogues and ambient sounds. In her video performance, Alice Walter similarly draws on a vulnerable voice to examine processes of psycho-regression. A medium and artist, Walter's sculptural sets undergo a process of psychometric rituals to make space for rhythm and trance. A loop of endless hope, the visual and sonic palette of the VHS video produces a sense of intimacy at odds with its surrounding conditions of cruelty. Together, the artists in this installation unstitch the body and lay bare its bruised fantasies. Signalling a departure from the promise of recovery, they admit that, after all, there are no exit wounds.
Lily Oakes: Scansion (2021)
Sound piece based on recorded session between Mandy El-Sayegh and psychologist John Robert Rilveria. Duration: 5:07 mins.
In Scansion, El-Sayegh collaborates with composer Lily Oakes to explore the intersubjective process of speech. The sound piece assembles fragments from the artist's sessions with a Manila-based psychoanalyst, in which they discuss concepts of Filipino psychology and self-shaping. Situated in the tradition psychoanalysis, El-Sayegh intervenes in the logic of scansion—a strategic punctuation of a patient's speech by layering dialogue and sound to form an ambient yet disjointed narrative. Both form and method of artistic analysis, Scansion translates the self through the address of the other.
Alice Walter
Someone here to see me (2020)
VHS, video performance. Duration: 21 mins.
Fellow artist Alice Walter contours El-Sayegh's installation to be her surface and portal. Here, Walter is becoming the medium and through electromechanical meditation in VHS, El-Sayegh receives Walter's weight of being. The process allows her inner child to speak directly to the camcorder. Walter nurtures it by creating an environment: a comforting nest stage-set. In the video, the child's voice repeats heart-breaking sentiments, seeking intimacy and acceptance from a position of abandonment. The artwork and child are both trapped technically and psychologically in a loop of ever-longing hope, that 'someone is here to see me'.
Mandy El-Sayegh (*1985) has a highly process-driven practice rooted in an exploration of material and language. In her paintings, table vitrines, immersive installations, and videos, El-Sayegh creates layered anthologies of found text and images. Set adrift from their original contexts, these fragments become open to multiple readings that are personally, socially, or politically determined and undermine the supposed objectivity of language and media. In 2022, she will be featured in The British Art Show, the largest touring exhibition of contemporary art in the UK. Solo exhibitions of El-Sayegh's work have been organized at UTA Artist Space, Los Angeles, USA (2022); Galerie Thaddaeus Ropac, Paris, France (2021); Lehmann Maupin, Seoul, South Korea (2021); Sursock Museum, Beirut, Lebanon (2019); Bétonsalon, Paris, France (2019); Chisenhale Gallery, London, UK (2019); Lehmann Maupin, Hong Kong (2019); and The Mistake Room, Guadalajara, Mexico (2018).
Alice Walter is an artist, writer, and medium, living and working in the UK. She has a BA in fine art, film, and video from University of the Arts London – Central Saint Martins and an MFA from Oxford University's  Ruskin School of Art. Her practice combines collage, psychosexual sculpture, VHS, and shamanism. Through these disciplines, Walter creates surreal and sensory spaces that open channels for the unseen. An active script writer and member of WGGB, she is currently under commission to write a book on mediumship and mental health.
Installation view (c) Jonáš Verešpej