NEWMAN / NEWWOMAN / NEWMEN, ongoing since April 2017, installation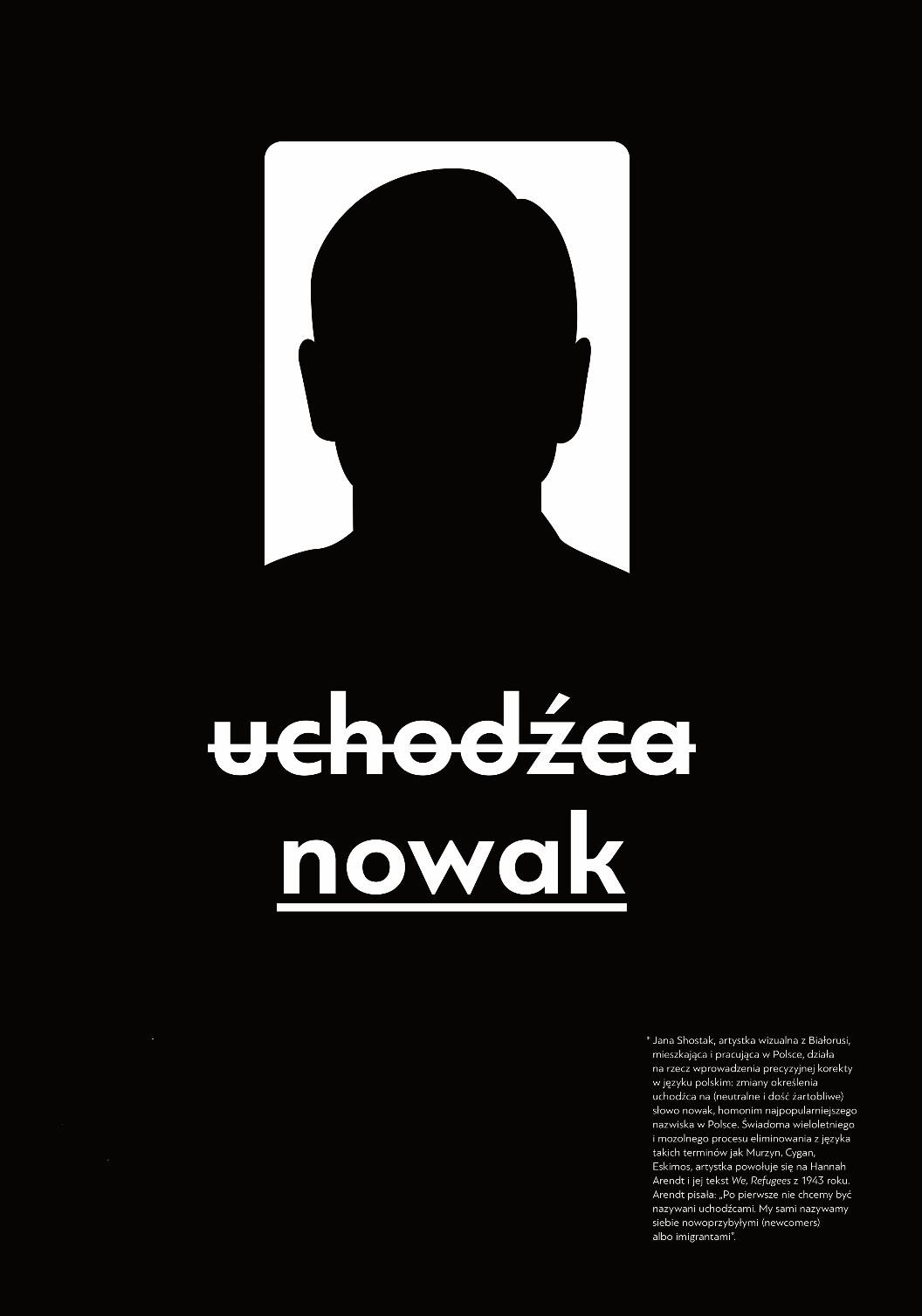 Every one of us has probably experienced this troubling moment while using the word "refugee" in regard to the Ukrainians fleeing the war. The Latin verb refugere means escaping or running away and comes from fugio, fugere—to flee or to avoid. Since 2015 the mass media has been enforcing the spurious image of foreigners storming our borders and posing a threat to Fortress Europe. The stigmatization of the term and the anti-refugee rhetoric present in the region ever since make it difficult to use that term to describe the victims of Russian aggression in Ukraine. Jana Shostak came up with a solution by simply proposing a new word to replace refugee: newman/nowak/novák, which happens to be the homonym of a very popular surname in the region. There is no doubt that it is not a matter of one word changing the official European policy in regard to the newcomers, but it's definitely a good starting point, especially when several hundred kilometers north of the war zone there are people waiting at the Poland-Belarus border who are being pushed back merely on the basis of their ethnicity.
​​Jana Shostak (*1993) is a Belarusian/Polish multimedia artist, activist, and PhD student at the University of Arts in Poznań. In her artistic practice, she focuses on activating/hacking the community within the non-artistic system. She received the Critics Award at the Maria Dokowicz Competition for the Best Diploma Project of the University of the Arts Poznań and the Grand Prix at the Young Wolves festival in 2016. In 2015, she established one of the Polish Guinness Records. She holds an official volunteer certificate of World Youth Day 2016. She has participated in numerous exhibitions, including Goodbye Ai Weiwei (Ini Project, Prague, 2018), Attention! Border (Labyrinth Gallery, Lublin, and Arsenal Gallery, Białystok, 2017), and Form resistance: Non-exhibition as a part of the Forum for the Future of Culture (Powszechny Theater, Warsaw, 2017). She was also included in festivals such as Manifesta 11 (Zurich, 2016) and WRO Biennale (Wrocław, 2017). She is currently taking part in the protests in Grodno, Belarus.