Renz Lee
Landworks, undated
Nation Building III (Agawan-Buko), 2018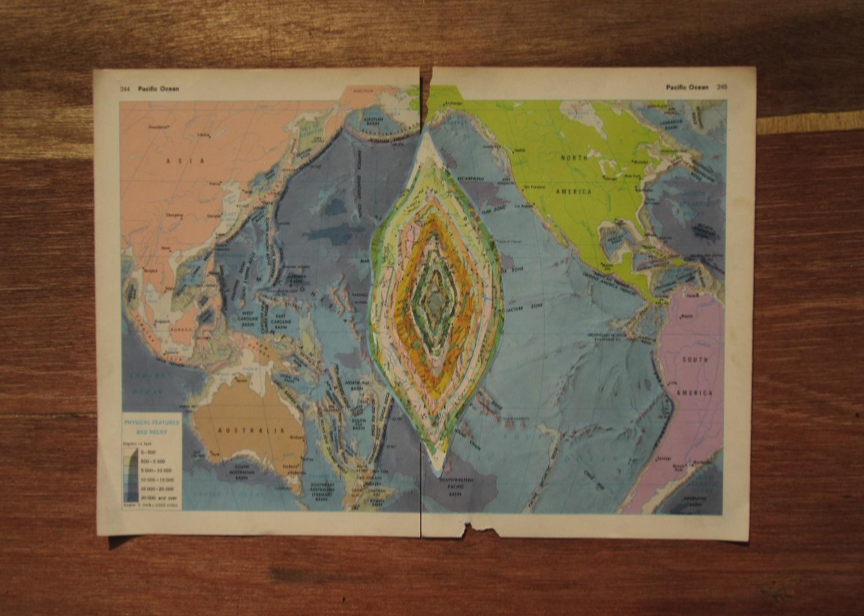 Landworks is the unrealized exhibition of Filipino artist Renz Lee. Based on a proposal he prepared before his untimely death, land is the foundation in presenting art, and work is the verb that infiltrates it. It is made up of works on paper, a description too general yet one that illuminates the shared brittleness of the medium and the subject. Lee planned Landworks to consist in three things: book, collage, and drawing. Active in labor organizations, the artist was immersed in the historical (dis)continuities of struggle. He understood division as a program that is weaponized to control resources.
Lee breaks each typology into smaller properties and then disseminates these in other structures that have been previously occupied either by meaning or ideology. The book is one of them; more precisely, the encyclopedia as a site persuaded Lee that alienating discourses such as geopolitics could be carved out in each page. The artist concretized the intentions of cartography beyond mapping when he transformed the paper strips and pulp into a two-dimensional diorama, the ultimate paradox of the sociopolitical representation of art. Similarly, Landworks takes the soil out of the land and encases it in a vitrine, inundating the progressiveness of imagination with many unhinged realities.
Elsewhere, Lee's objects are implanted in the territories of a museum: such as a tongue-in-cheek coconut engraved with the word "LAND". Uprooting is the main action that explains how the seemingly irrelevant items arrived in Prague - products of migration and displacement which have conveniently passed through multiple borders. Dispersed as art, the souvenirs are cultural commodities which, in addition to the global labor predicaments they represent, have reinforced the role of symbolic, immaterial capital in maintaining the elite-friendly status quo.
Renz Lee (1995–2019) received his bachelor of fine arts in painting from the University of the Philippines in 2016. He was a member of Tambisan sa Sining, the cultural wing of the national labor group Kilusang Mayo Uno. He received a scholarship from the École Nationale Supérieure des Beaux-Arts in Paris, France (2015–16) and was part of the open studio Mutual Unknown held at the Galeri Nasional in Jakarta, Indonesia, in 2017. He exhibited his works in different museums and galleries in Manila and elsewhere. Central to his practice was the idea of collective action and movements and the visualization of global "civil unrest." His collage work responds to these ideas and aspires to "create a space for discourse, a space that yields struggle, forms of resistance."