Relaxing Horror Tales for Children and Adults, 2022, multimedia projection, 27 min. Commissioned by Biennale Matter of Art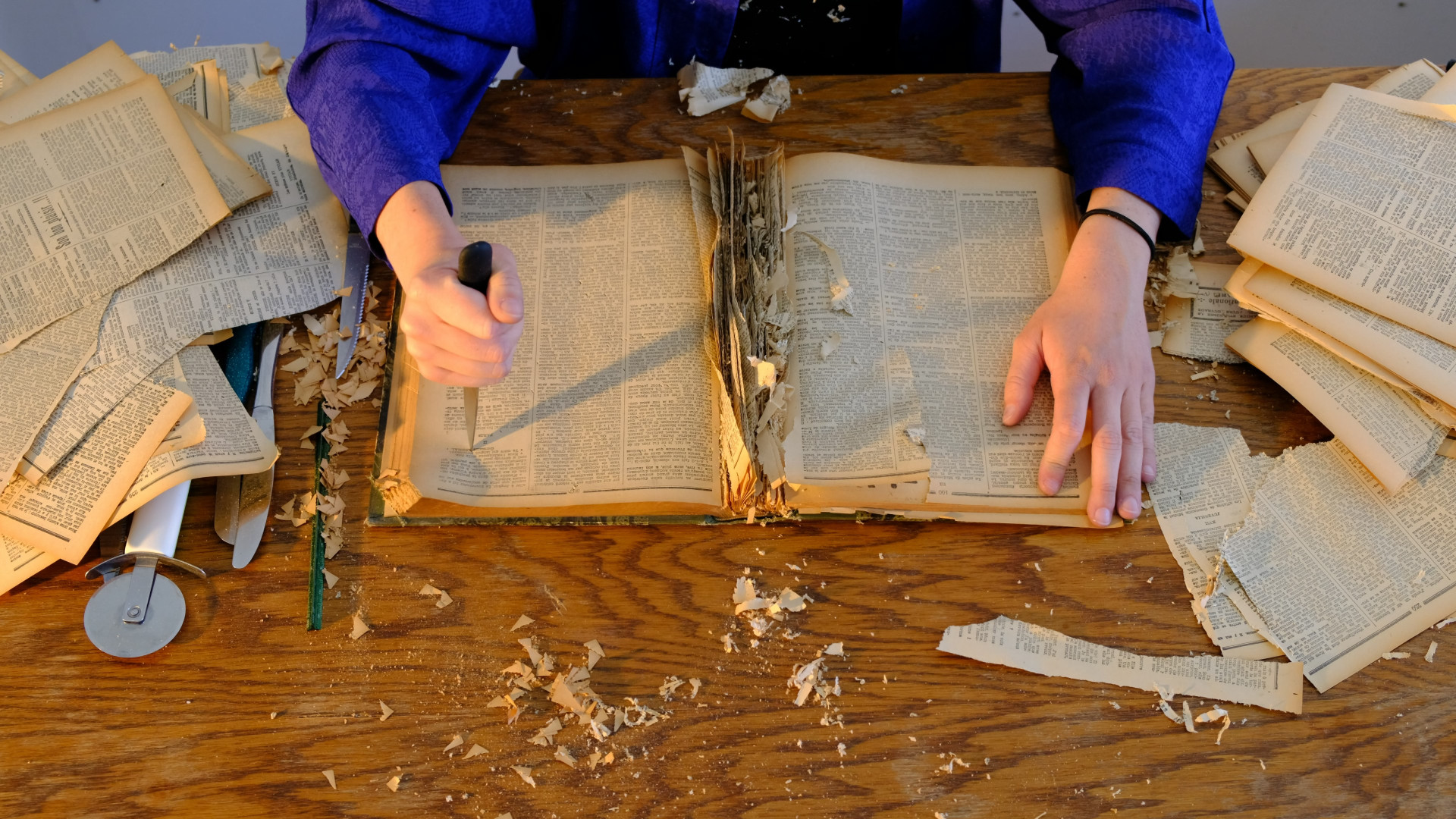 The video installation Relaxing Horror Tales for Children and Adults is an intermediary apparatus that provides viewers with the immersive experience of a children's album of deconstructed fairy tales. Using the classic Pepper's Ghost illusion, the work mines the historical concept of childhood. The artist locates memory lapses, unstoppable rage, stuttering, and unconscious idioms, which are often associated with the incompleteness of a child's comprehension, in his production of new, organized fictions for adults. Composed of disjointed performances, spoken word, and various audiovisual elements, the story-image narrative is knotted by many discontinuous lineages and characters of puppetry, folk literature, and demonology in Czech and Persian cultural milieus. Relaxing Horror Tales is a modest engineering of perception—emerging from an artistic experiment instead of psychoanalysis—that invests in the wonders of ambiguities, a pleasant non-dissolution of childhood in adulthood.
The production of the artwork was supported by a grant from Iceland, Liechtenstein and Norway (EEA Grants) as a part of the project "Centre and Periphery: Cultural Deserts in Eastern Europe".
Sina Seifee (*1982) is a visual artist and researcher based in Brussels. Structured around a research-intensive and transversal exploration of performative storytelling and image-making, Seifee's artistic practice looks at how aesthetic knowledge is shaped. His work has been recognized for its commitment to the social dimensions of imagination at the intersection of techno-media and globalism with an emphasis on the heritage of zoology in West Asia. He has presented internationally at WIELS, Brussels (2020); SAVVY Contemporary, Berlin (2016); Sharjah Art Foundation, UAE (2018); Haus der Kulturen der Welt, Berlin (2017); Temporary Gallery, Cologne (2019); Hordaland Kunstsenter, Bergen (2019); and Akademie der Künste der Welt, Cologne (2015).